Our Ashdown branch main phone number (870-898-3742) is currently out of order. Please call 870-898-4701 or 870-898-6948 if you need to speak with someone at our Ashdown location. We hope to have service restored soon. Thank you!
---
SPECIAL ALERT for MilWay Members using Cash App. Click to Learn More.
---
We've recently become aware of a scam in which fraudulent cashier checks made to appear as if they have been issued by MilWay Credit Union are being presented as legitimate checks. Please be aware the scam artists may have several versions of the check in distribution with different names, therefore, MilWay requests anyone who receives a MilWay FCU cashier check to call MilWay's main office in Texarkana, AR and verify the check's validity.
---
COVID RESPONSE DETAILS AND GUIDELINES. CLICK HERE FOR DETAILS AND REOPENING GUIDELINES.
What's new
Staying Safe on Social Networks

Social networking sites rely on connections and communication, so they encourage you to provide a certain amount of personal information.

See how you can stay safe

Enroll in eStatements

Simply click the Statement Icon within online banking and follow the steps.

Learn more about eStatements

Donald G. Smith Scholarship Recipients

MilWay is pleased to announce our 2020 scholarship recipients.

View Winner Bios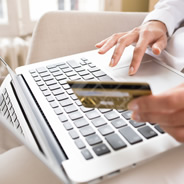 quick links


MILWAY NEWS
Follow us