COngratulations to our 2019 Donald g. smith scholarship recipients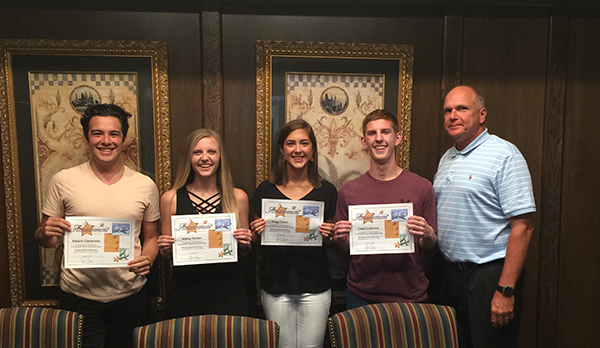 2019 Donald G. Smith Scholarship Recipients from left to right: Natalio C., Kailey F., Paige E., Caleb L. and MilWay CEO Allen Brown.
Natalio Castaneda,
the 18-year-old son of Kathy Castaneda and Bernardino Castaneda, will attend the University of North Texas in Denton where he will major in music composition.
Paige Eaton,
the 19-year-old daughter of Daniel and Jessica Snow, will continue her studies in engineering at Texas A&M-College Station.
Kailey Fenton,
the 20-year-old daughter of Bobby and Missy Fenton, is currently attending Southern Arkansas University where she will continue to pursue her degree in the field of education.
Caleb LeGrand,
the 19-year-old son of James and Wendy LeGrand, will begin his studies at Mississippi State University with his sights set on entering medical school upon completion of his undergraduate work.
The Donald G. Smith Scholarship was created in 1996 to honor retired MilWay president, Don Smith. Mr. Smith served as our president from 1970 until 1995, at which time he retired. In 2012, the board voted to increase the number of scholarships to four in the amount of $1,000 each ($500 per semester).
Applicants must be a member of MilWay Credit Union, must be enrolled as a full time college undergraduate student and must maintain a 2.50 grade point average.
Many of our recipients have been very successful in their studies and have gone on to professional and rewarding careers. Not only is it exciting to see these students excel, it is an honor for us to award these scholarships in Don Smith's name.